The book centuries old,
the first copy ever made,
passed down through his will,
as planned for the greater good,
to overcome the gravest circumstances.
To the fated students he entrusted,
to make the right choice,
the gravity of each overwhelming,
the way to destroy evil, and
the temptation to conquer death.
As she opened the old book,
rare, torn and broken,
its mystique made known,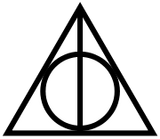 The deathly Hallows
by the smell of old book
,
captivating and enchanting.
There it laid bare,
the key to it all,
though scribbled in code,
for them to unfold,
the guiding light to their destiny!
-------------------------------------------------------
The above post was written for the Write tribe's
the smell of old books
prompt
Inspiration: "
The Tales of Beedle the Bard
" from Harry Potter series
Picture Credit ::
neverxlight.deviantart.com